Our blog, Greening for Resilience, will address water management issues in the age of sea level rise from the perspective of urban design, regional planning, threatened habitats, and civil-storm water design.
OCTOBER 1ST, 2014_ Resilience Studio has been retained by  R2L Architects of Washington DC to design the habitable roof and green elements for a LEED Silver 32 story residential mixed use tower in downtown Charlotte North Carolina for Greystar Development.  This elegant infill development, sitting on a new downtown park, will make the downtown a even more sustainable place to live and work. This  construction to begin in late winter 2015.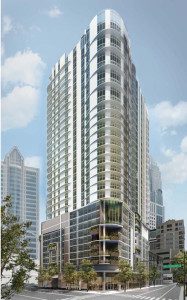 November 2nd, 2014_Resilience Studio has been retained by the Charlotte County Virginia Museum to develop alternate site plans that would place new secure courthouse facilities near, but not attached to, the Thomas Jefferson Designed 'Temple'  1810 court house. The board of supervisors has plans to attach a new courthouse to the back of the historic building. Attachment  would likely damage its, and its contiguous historic district, National Registrar Designation.  Resilience Studio's Plans show the enclosure of a green quadrangle with room for future expansion.